Canada's leading Purchasing and Supply Chain Recruiters and Consultants.

Tim Moore and Associates represent over 10,000 seasoned Purchasing and Supply Chain Management specialists across Canada who have personally registered with us, and we are the preferred supplier of value-added Supply Chain Recruitment Services for companies looking for Purchasing, Procurement and Supply Chain specialists.

Supply Chain specialists include: Buyers, Senior Buyers, Planners, Inventory Controllers, Materials Management Specialists, Commodity Managers, Logistics Coordinators, to name a just a few. Everything from a newly qualified Junior Buyer to a seasoned VP of Supply Operations – across all industries such as: automotive, pharmaceutical, oil and gas, manufacturing, public service, food/beverage, consumer goods, electronics and much more.
Making Supply Chain Sexy
Read more
of Tim Moore's interview in MMD's latest issue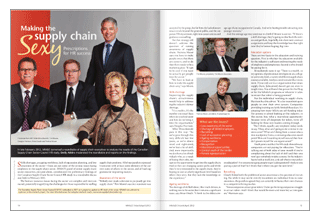 Download the latest TMA Whitepaper

For Employers
Ten reasons why you should work with TMA in your search for Supply Chain Talent.
The greatest challenge faced by employers is retention and the ability to attract top talent. This is just as critical as the legal advice you receive from attorneys and the accounting advice they receive from their accountants. Do you hire the cheapest lawyer and accountant available? The answer is NO. You hire individuals with the expertise you need to protect their company. That same rule should apply to Recruiting Firms you utilize. Attracting and hiring the top talent you need can make the difference between success or failure.
Reason #1
- We have developed a network that attracts top supply talent, who firms cannot find on their own.
Reason #2
- We recruit top talent daily and surface that hidden marketplace of candidates who are not reading job boards, viewing website postings or conducting an active search.
Reason #3
- Our recruiters are experienced Supply Chain practitioners themselves, who know the profession, job function, and the job market better than your in-house recruiters. We deal with multiple hiring authorities on a regular basis, have inside information on the supply profession, and hundreds of companies, and can use this industry knowledge to benefit our clients.
Reason #4
- We can shorten the time it takes to fill a position because we don't have to start from scratch. Our marketing efforts are focused solely on the supply professional, and we regularly identify dozens of potential candidates for each job order, assignment or contract. We have already identified potential candidates that are qualified and have surfaced recently; that you could potentially use.
Reason #5
- The cost of training is drastically reduced because we find candidates who have the exact experience, skills and stability needed to hit the ground running in your organization.
Reason #6
- We take the time when you can't. We strive to get everyone in the hiring process on the same page and can assist busy HR departments and/or hiring managers, by directly obtaining your needs, special requirements, and interviewing schedules before (properly) briefing candidates on your needs and setting up interviews with selected individuals. It's amazing how many times job specifications, requirements, or schedules can vary from initial observations. We're here to make your job easier.
Reason #7
- Utilizing our services is cost effective when you consider ALL the expenses involved with a new hire. Too often fees or rates are compared to the cost of simply a job board posting. However, think of all the costs incurred for a new hire: Job Postings, Sourcing, Website Updates, Reference & Background Testing, Assessment Tools (if utilized), Support costs to contact the hundreds of candidates who respond to postings, interviewing, database mining, marketing materials, salaries and this does not even include overhead costs. You also have to ask yourself…what is it costing my company to have this position open for any length of time?
Reason #8
- We can DISCRETELY and proactively search for hard to find talent. Exact fits or 'needles in a haystack' are not easy to find. Once briefed on your unique opportunity and needs, we build a strong rapport with our clients and help you identify hard to find talent by aggessively, proactively and discretely working on your behalf in the marketplace. All of our searches are confidential, eliminating the constant annoyance of unsolicited candidate phone calls, e-mails, resumes and letters…or worse, people simply 'dropping in,' which are a drain on your valuable time and resources.
Reason #9
- We can improve retention, through our strong prescreening and prequalitying of candidates, but also on the correct identification of salary level and benefits package required to attract (and retain) top notch talent.
Reason #10
- We don't simply disappear. We also work hard in the post hire stage as well, to follow up on candidate performance, job and overall placement satisfaction, on both sides as well. We just don't disappear.
Stay up-to-date with the Supply Chain industry and job openings using our Twitter account
twitter.com/buyerjobs
Tim Moore on PMAC
Tim contributes to PMAC's e-magazine's Expert Corner column, see October's edition
here
.
Have you been making the same hiring mistakes? Find out before it's too late.
We offer a complete portfolio of fully managed solutions to your procurement and supply chain staffing problems.
Professionally trained Purchasing and Supply Chain specialists do more than simply buy and supply items.
An overview of the skill sets for all levels of management for both Purchasing and Supply Chain specialists.
For Candidates
To search ALL current TMA-exclusive supply jobs,
click here
and simply leave the next search form blank.
Not yet registered? Registering is fast and easy and one of the best investments of your time you can make!
See the
Ask Tim section
, where Tim Moore provides answers to questions often asked by Supply Chain candidates, along with tips for success in the Supply Chain industry.
Update Your Resume
To update your resume, please
click here
to send us an email, with your updated resume attached. We'll replace the version we have on file with your new resume.
If you haven't yet created your profile on TMA and uploaded your resume, please
click here
to do so now.
We offer candidates a full range of counselling and placement services